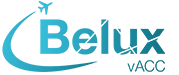 Welcome to the website of the Belgian and Luxembourg virtual air traffic organisation.
On these pages you will find info on how to become a controller within our vACC or
how to expand your knowledge and abilities to control in the Brussels FIR.
Belux vACC is a local vACC from the VATEUD (European-except UK) division of VATEUR,
which on its turn is part of the global VATSIM network.
This VATSIM network provides ATC services over the internet free of charge to pilots
connected to this network using their flight simulator.

For a full organigram, please click here

Enjoy your stay in Belux Airspace!